Most people recognize the need for home insurance, car insurance, and even life insurance however, many overlook the need for disability insurance – insurance that provides a source of income if you become ill or injured and can't work. Your biggest asset is not your car or your home; it is your ability to earn an income.If you earn a higher income than the average person in your group, your disability benefits can vary drastically. When it comes to your disability plan, the question you need to ask yourself is – are you sufficiently covered? Do you know how much your group disability plan would pay out in the event of an illness or injury?  Would you want to find out what your plan covers when you need it the most?
If you are covered under a group benefits plan, you need to be aware that there may be a significant gap in your protection. Most group plans only provide a maximum benefit based on the average income earner in the group. 
Not many people expect to be affected by a disability, yet disabilities are a very real fact of life that can be financially devastating. The chart below illustrates the percentage of people who will become disabled for at least 90 days prior to age 65 and the average duration of disability.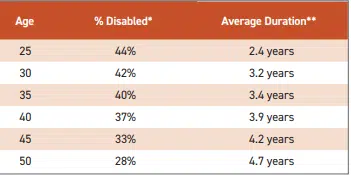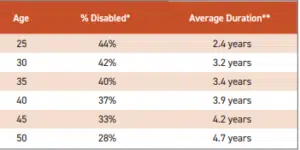 *Source: Commissioner's Disability Table, 92 CIA Mortality Table, blended 50/50 male/female 
**Source: Commissioner's Disability Table, blended 50/50 male/female and 50/50 accident/sickness
Team Jackie Porter/Lawyers Financial